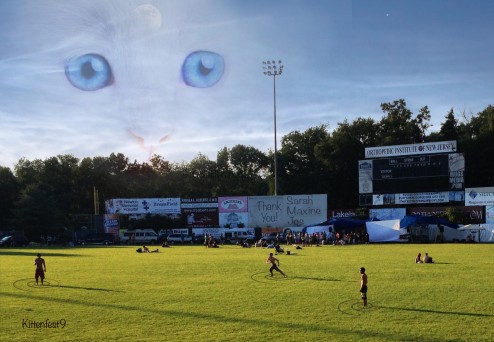 It began as random as a snow in Savannah, and I had no idea what to expect. It was in a place I had never been to, a ball-field built for the New Jersey Cardinals, located  northeast of nowhere. I knew no-one except for the musician who invited me. When we arrived it was dark. Nothing could be seen if it weren't for the massive orange light way up in the sky, barely illuminating what looked like a few picnic tables on a large concrete slab. The festival is called Kittenfest 9 or The Kitten Festival in 2013, and I was there to help.
Eventually, I met a few new people who's names I can barely remember, due to my difficulty remembering names. It's funny though, I never forget a face. I think my brain just has an easier time remembering pictures over data, nothing personal. As the night progressed I was very pleased to find many people whom which had brought their guitars. There were small pockets everywhere of people jamming and singing both familiar, and unfamiliar songs. I was intimidated. I knew I could hold my own, yet I had no idea how practiced anyone was. I eventually took a chance and began to mingle allowing my guitar to do most of the talking that my mouth was just too nervous to do. After playing music with ten or so people, I realized that I was accepted by at least the few people that mattered most. We partied, then slept indoors with our outdoor equipment. Before I slept, I remembered thinking, this is going to be my first Kitten Festival ever, what did I get myself into.
The next morning I was awoke by the chattering of some young girls. Not a bad way to wake up, I thought to myself in my half comatose state in which my senses were only at about ten to fifteen percent operational. What a lovely state to be in. Too bad it doesn't naturally last longer than a few minutes. So now we were all wake except for one.
The day began with the responsibility of assisting the volunteers with the assembly of the stages. It was definitely a bit of a struggle for me being that I am not generally the best at taking orders from anybody, due to my residual issues created by my own disappointment with my own father's methods or lack-thereof of being a father at all. He was always giving me these solutions to problems that seemed to backfire ninety-nine percent of the time. Eventually the pain became too great bear, so I decided it was best to take my own directions from then on. I am still this way after twenty years have passed. I was hesitant to become too involved, due to this shortcoming. I did help out getting the tarps over the stages and eventually the stages were completed and protected from the rain.
Kitten Festival, 2013, June 29th, Photo and editing by Jeremiah Williams
As people started  trickling in to watch the bands and see old friends, I began to notice things like the beautifully kept grass in the outfield, and on the infield, I imagined all the bases were there and on them, a ballgame being played. Then I realized, I hadn't ever been in on a  full size professional baseball field. The last field I remember being on was my high school in Sayreville, New Jersey which was about half the size. This place was enormous, and I was going to keeping an eye on things making sure people partying weren't becoming violent. There are many types of violence, the only one I was concerned with was the physical kind. I was also given the task of making sure people were paying and didn't sneak in. Seemed easy enough.
The weather during the day was perfect. The sky was filled with beautifully shaped cumulus clouds. The sky was a beautiful saturated blue, the grass was a perfect green, the tress were a heavily contrasted darkened green, and the infield was a medium to light brown mixed with a hint of reddish hues. A perfect blend of primary, secondary, and tertiary colors was being drawn in by my brain and recorded to ward off the next change in the weather since nothing so beautiful could last for very long without changing to its opposite and feeding the trees. Next, the first band played and the Kitten Festival 2013 began.
If you would like to read about the events that occurred next at the Kitten Festival somewhere in NJ, subscribe to my website on the bottom of the page by entering your e-mail address. Thx. Spoiler alert – Shit got Weird!!!
Written by Jeremiah Williams
Artistic Photograph by Jeremiah Williams